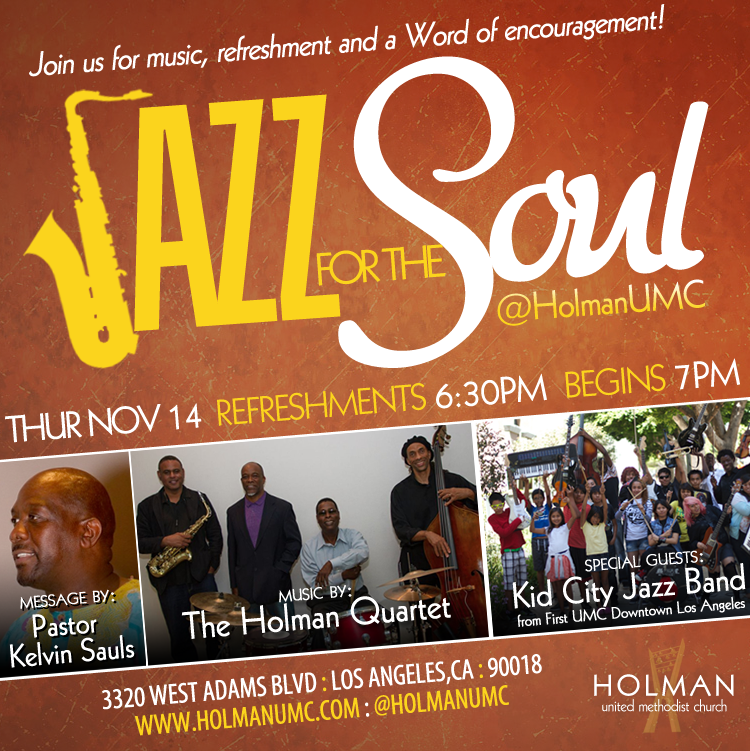 Jazz for the Soul at Holman UMC is a contemporary worship experience at that draws upon the rich African-American traditions of Gospel and Jazz.  Every 2nd and 4th Thursday of the month, we gather for this celebration in music featuring our own Holman Quartet, a light meal, spoken word (poetry) and a Message from a guest speaker or member of  our pastoral staff.
Last month at JFTS, we commemorated Breast Cancer Awareness month as Holman survivors of breast cancer shared their testimonies of moving "from surviving to thriving."  On this night we were joined by soloist Wendy Smith-Bruné, a former backup singer with Ray Charles who currently performs worldwide as a soloist with the legendary Glenn Miller Orchestra.
We also honored National Recovery Month where members of Holman's recovery groups shared testimonies of restoration and we heard a powerful and challenging message from Ronald Simmons of Free N One Drug & Alcohol Treatment Facility.  The Forensics Team from United Methodist-related Wiley College in Marshall, TX, who was in town for an exhibition debate against USC, also joined us as they shared in song and spoken word.
At the next JFTS on Thursday, November 14, the Holman Quartet will lead in music, Senior Pastor Kelvin Sauls will bring the Word and we are excited to be joined by special guests, the Kids City Jazz Band from First UMC Downtown Los Angeles!  Under the direction of Ben Ude and with the support of First UMC Downtown, the Kid City Program mentors young people in their gifts for musical expression:
Since its humble beginnings as just a guitar lesson program with a couple of youngsters, Kid City's Music Program has always been committed to teaching the youth of our city the values of community and mentorship.  Each youngster who enters the program finds a loving, welcoming environment where their creativity is given freedom to blossom and where caring, successful mentors are available to teach, counsel, and be great role models for these kids. Through the generous support of the United Methodist Church, Kid City has grown to include multiple performance ensembles and boasts youngsters who have successfully made the transition to college.  Now entering its fifth year, Kid City continues its work believing that music is a key element to rebuilding our communities and that true leadership is taking responsibility for the things we care about.
Don't miss the next Jazz for The Soul @ Holman UMC!     For more information, go to our website (www.holmanumc.com), like us on facebook or follow us on twitter!