Dr. Martin Luther King, Jr. Celebration Weekend (January 17 – 20, 2014)
Friday, January 17, 2014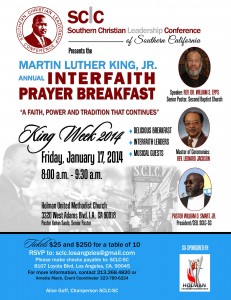 SCLC Martin Luther King, Jr. Breakfast
The Southern Christian Leadership Conference (SCLC) will partner with other community organizations in hosting this year's King Breakfast at Holman UMC in L.L. White Hall at 8:00 am.  The cost is $25 per person or $250 for a table of 10.
Saturday, January 18, 2014
City of Culver City 9th Annual Martin Luther King, Jr. Celebration
Join us in celebrating Dr. King's Legacy. The event includes Keynote Speaker Dr. Michael Bernard Beckwith, a panel discussion, and a screening of the film "King: A Filmed Record…Montgomery to Memphis."  The program begins at 10:30 am at 4095 Overland Avenue, Culver City, 90230.  For more information, contact Arames White-Shearin at 310-253-6675 or go online to http://www.culvercity.org/Articles/MLKCelebration2014.aspx.
Sunday, January 19, 2017
Human Relations Sunday/MLK Worship  at Holman UMC
Join us for worship at 8 am and 11 am as we remember the life and witness of Dr. King throughout our morning worship experiences. You can also worship with us live on the KJLH radio 102.3 FM or online at holmanumc.com/radio.
Twenty-Ninth Commemorative Concert In Honor of Dr. Martin Luther King, Jr.
Presented by Delta Sigma Theta & Alpha Kappa Alpha Sororities, this concert will take place on Sunday, January 19, 2014, 4:00 p.m. at Trinity Baptist Church on 2040 West Jefferson Boulevard, Los Angeles, California 90018.
Monday, January 20, 2014
33rd Annual Kingdom Day Parade in Los Angeles
The parade rolls out from Western and King Blvd toward Crenshaw Blvd and ends on Crenshaw and Vernon.  Immediately after the parade, Crenshaw and Vernon will be filled with soulful music, informative vendors, exhibits and community unity as Councilman Bernard Parks and 102.3 Radio Free KJLH present KINGFEST 2014.