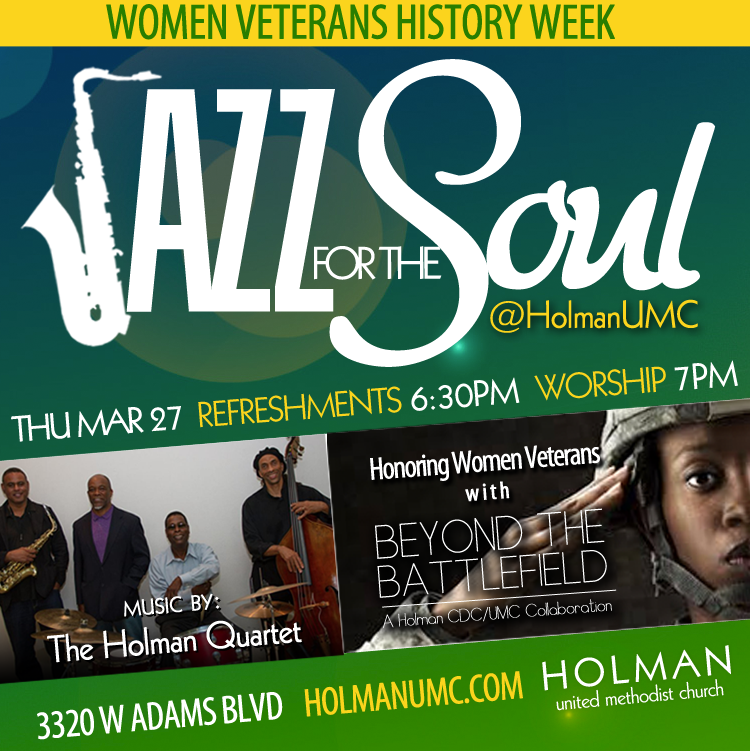 from the Los Angeles Sentinel (www.lasentinel.net)
Sentinel News Service
generalinfo@lasentinel.net
Female veterans face unique challenges and are less likely than their male counterparts to access services available to them via the Veterans Administration.
So much support is needed that Holman United Methodist Church and Holman Community Development Corporation are taking action by sponsoring the 'Beyond the Battlefield: Female Veterans Initiative.'
The effort honors the service and affirms the dignity of female veterans by educating the civilian population on the challenges they face and tangible ways to overcome them as well as ways the public can help.
On Thursday, March 27, at 6:30 p.m., Holman UMC and CDC will host female veterans and guests at the Jazz for the Soul Worship Experience.
Before the program, a private 'listening circle' will be held to discuss issues of returning female veterans.
"The Jazz for the Soul Worship Experience is free and open to the public, so please join us as we celebrate and support female veterans," said Pastor Kelvin Sauls.
"Our goal is to raise awareness for their spiritual, emotional, psychological, social and financial restoration."
Holman United Methodist Church is located at 3320 West Adams Boulevard in Los Angeles. For information, call (323) 731-7285 or visit www.holmanumc.com.