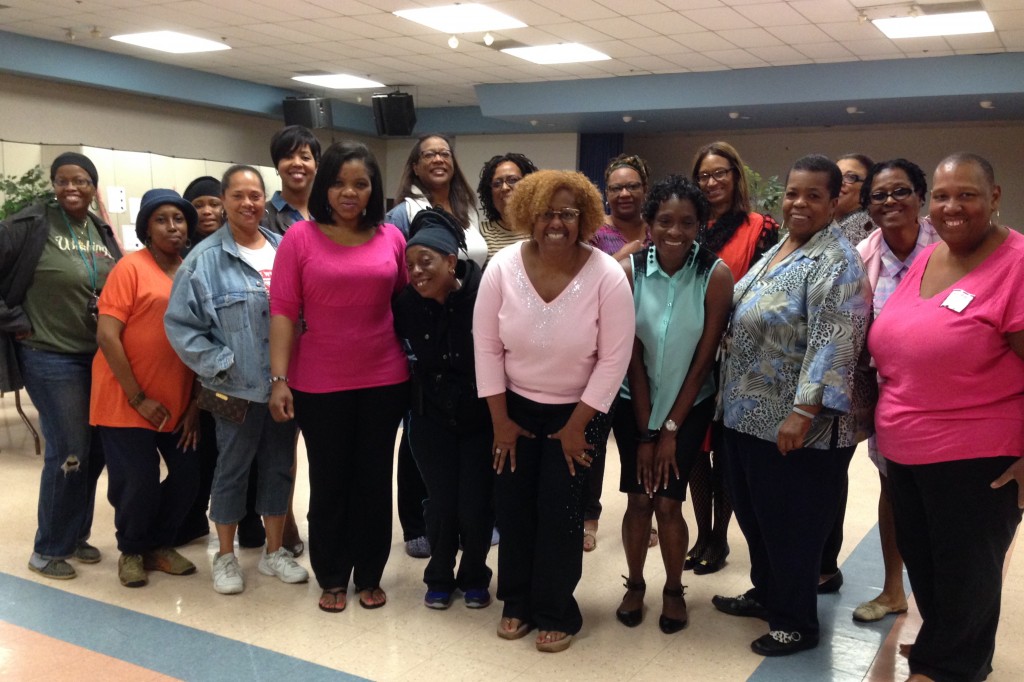 Lugging sleeping bags, tugging plain and fancy air mattresses, and one bright red sofa, nearly 30 women prepared for a good night's rest in L.L. White Hall, or at least a couple of hours of sleep at Holman's first ladies-only pajama party.
Rev. Judi Wortham-Sauls, zipped in a leopard-print onesie with eyes, whiskers and a little pink mouth on each footie, welcomed ladies ranging in age from 20-something to 80 years of wisdom, on Friday, March 15.
"As women, we don't do enough to have fun. When we were teenagers and before that we had slumber parties, and PJ parties," she said. "We need to have more opportunities like this."
She planned the white tablecloths, the pink roses, the healthy meals and snacks, the juice bar, the tea bar, the pampering, and a chick-flick with gourmet popcorn—garlic butter, anyone?
"My personal focus for women is wellness in every area of our lives – not to drink soda, or eat candy, not to do the typical things that we do, " she said, "and to have a wonderful pajama party and be healthy."
Sisterhood and Fellowship—6:30 p.m.
Many ladies from her women's Bible group participated.
"We are studying Ruth and Naomi, and that whole book talks about sistering," Rev. Judy said. "One of the reasons the Book of Ruth is one of my favorites is because I did not have any sisters. I have five brothers, and I always wanted a sister."
These sisters, some lifelong friends and other brand-new acquaintances, came for fellowship and fun. They signed up for 'mani-pedis' and massages in the spa, actually the transformed Bowick music room. They sipped spa waters flavored with calming cucumber slices, or spicy jalapeno-spiked lemonade. They savored refreshing blends of carrot, cucumber, apple and ginger juices.
"I attended the pajama party because I had gotten to know Rev. Judi from being her quilting students.  I believe in her mission to help and empower women," Linda Fuller said. "I wanted to have animals on my pajamas…but no mice! I dream about mice because I read about mice all the time. Somehow, they are the stars in my granddaughter's toddler books. I like dolphins, so I was sold when I found dolphin pajamas with slippers to match. The slippers were my idea of fun."
Dressed in a black and yellow bumble bee onesie, Deborah Mitchell came "to be in fellowship with other sisters in Christ."  And, she got a pedicure, her toenails painted a bright fuchsia.
Dinnertime—7:30 p.m.
"I loved the salad and coleslaw. The food was catered," Jacki Williams-Jones said. "I came "because I thought it would be fun," she added. "Who doesn't like a pajama party, hanging out with the ladies without an agenda?  What I most enjoyed was sitting down and having a conversation with somebody that you see but you never have a chance to talk to, with nobody having to rush off or attend a meeting."
The enchiladas, guacamole and chips were also a big hit.
"The food was amazing," Andrea Atkins said. She attended even though she lost her father a month ago. "I knew my Dad would not want me to be paralyzed by grief.  I thought this maybe, this would be my starting point back to happiness.
"I was a little nervous yet, excited to see what was in store. I was put at ease right away. Everyone was kind and welcoming," she said. "The conversations were priceless.  I bonded with Jacki Williams-Jones over our love of fashion, and her daughter's beautiful wedding pictures. Wilma Pinder has little pearls of wisdom I call Wilma-isms."  Asked would she share one or two? Atkins shook her head. "What happens at the pajama party stays at the pajama party."
Cheryl Sweeny almost missed the festivities, agreeing to attend, but reluctantly. "I had no intentions of attending, but it just kept coming up in my spirit." What did she like best? The pampering and her pale pink manicure, the juicing and the bid whist card game, even though Claudia Spears kept setting everybody and winning, despite proclaiming over and over that she couldn't remember how to play.
Getting Your Shop On—8:30 p.m.
The boutique opened after dinner. Dresses, suits, jackets, shirts, blouses and pants hung from a coat-rack on the stage in White Hall. Purses
, including a couple of designer handbags, lay on a small table. Shoes—including some to die for—books, wraps and other items were also for sale, offered for $5. "To raise money for the women's ministry, I asked everyone to bring three or four gently used or new items," Rev. Judi said.
"The boutique was a nice touch," Linda Fuller said.  "I contributed books, cologne, videos and household items. I purchased a hat, which I got numerous compliments on, and was fortunate enough to get the red purse and wallet that EVERYONE wanted."
The Intruder—9:30 p.m.
As the shopping continued, conversations flowed. The concierge escorted women to the spa for their appointments, and in walked Senior Pastor Kelvin Sauls prepared to bless the gathering. But these sisters were serious about ladies only. Get out, several insisted.  As he walked around, others asked what he was doing here.  The result was predictable.
"They kicked me out," he said.
Showtime—10:15 p.m.
Making their way to the Crockett Library, the women selected bottles of sparkling waters or apple juice as they found seats. Munching popcorn they expected a movie, but first, Cal Poly-Pomona Prof. Toni Humber gave a special presentation on black Academy Award winners. She started with the actress who played Mammy in "Gone with the Wind."
"Hattie McDaniel said she would rather play a maid, than be a maid," the pajama-clad professor said. "But she couldn't attend the premier of "Gone with the Wind," in Atlanta.  And, at the Academy Awards, she couldn't sit with the rest of the cast. She had to sit at a separate table."
Putting each winner in context, she pointed out that Sidney Poitier was the only black person in "Lilies of the Field," when he won his first statue for best actor. Why did Denzel Washington win for his portrayal of a bad cop in "Training Day," instead of his heroic portrayal of "Malcolm X?"  Why did Halle Berry win for playing a woman willing to have crude sex with her husband's executioner, and an unfit mother?
She ended with this year's best supporting actress winner, Lupita N'yongo who portrayed Patsey, the young woman who was beaten and violated in the movie, "12 Years a Slave." In her acceptance speech, N'yongo said, "It doesn't escape me for one moment that so much joy in my life is thanks to so much pain in someone else's."
Bedtime for some–Midnight
Before the movie "Steel Magnolias," featuring Queen Latifah, most women made their "beds" in White Hall. Deborah Mitchell covered her sleeping bag with a gift from her sister, a special sea foam green throw titled, "The Name of Jesus," with words on it such as "Redeemer," "Mighty God" and "Wonderful Counselor."
Cheryl Sweeny unfolded her red couch into a bed. "I was one of the few who got at least six-and-a-half good hours of sleep, from midnight to 6:30 a.m."
Andrea Atkins set up her elevated air mattress, as tall as a regular bed, and made it up just like she would at home with her elegant white spread and satin pillowcase.
To Sleep, Or Not–2:30 a.m.
Air mattresses were popular. Linda Fuller slept on one for the first time. "The best way to describe my sleep was a nap," she said.  She wasn't alone.  Rev. Judi was ready for rest, but her aerobed leaked and soon she felt the hard floor. "I slept about two hours."
Toy Hightower, who didn't sleep much at all, turned the bright lights on at 7:30 a.m.  One sleepy-head asked, "Is it time to get up? Why did you turn the lights on?"  She replied, "Because Rev. Judi told me to."
Good Morning—8:30 a.m.
The breakfast buffet opened with mini-muffins, quiche and yogurt. Tea was offered, but some ladies needed coffee. They sat again at the round tables and discussed what they learned and what they loved. "It was an amazing time, and just what I needed," said Andrea Atkins. "Thank you ladies, and thank you Rev. Judi for nurturing us in mind, body and spirit."
Don't miss the next ladies-only pajama party sometime in the fall.