Today marks the 60th anniversary of one of our country's most monumental Supreme Court decisions. Brown v. the Board of Education ended segregation in our nation's schools, and helped usher in the Civil Rights Movement.
As we reflect on this landmark event, I am pleased to share that Los Angeles has moved a step closer to another historic moment. This past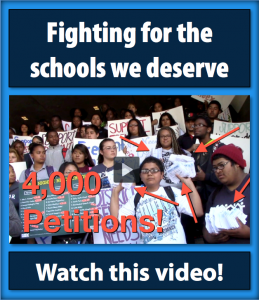 Tuesday, three school board members co-sponsored a resolution that would direct Superintendent Deasy to adopt the "Student Need Index" — a cutting-edge, data-driven tool that uses social, academic and neighborhood factors to rank all of L.A.'s schools based on need.
The national civil rights organization, Advancement Project — working in collaboration with InnerCity Struggle and Community Coalition — developed this index. If adopted it would set a groundbreaking precedence for ensuring that funding goes to the schools with the highest needs.
Thanks to new state legislation, called the Local Control Funding Formula (LCFF), L.A. Unified will receive billions of dollars in the coming years to help high needs students. With the Student Need Index as a guide, we hope that L.A. Unified now has the tools to ensure communities like South L.A. receive their fair share of funding.
Perhaps most exciting is that our members — youth, parents and relative caregivers — have been at the vanguard of leading this campaign. Watch this video to see one of their key mobilizations!
The school board is scheduled to vote on the "Equity is Justice" resolution on Tuesday, June 10th. We would like to send a special thanks to School Board Members Monica Garcia and Steve Zimmer, and School Board President Richard Vladovic for co-sponsoring this resolution!
We still need more votes for the resolution to pass, but the momentum is on our side. Please consider making a donation to support this crucial campaign, and don't forget to watch and share our video!
In solidarity,
Alberto Retana
Executive Vice-President, Community Coalition