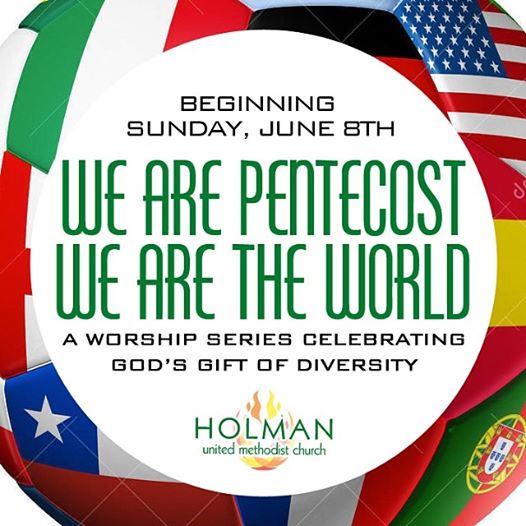 The season of Pentecost coincides with the 20th Anniversary of the 2014 FIFA World Cup, an international football tournament that is scheduled to take place in Brazil from 12 June to 13 July 2014. The national teams of 31 countries advanced through qualification competitions that began in June 2011 to participate in the largest sporting event in the world.
"We Are the World" is a song and charity single originally recorded by the super group USA for Africa in 1985. It was written by Michael Jackson and Lionel Richie, and produced by Quincy Jones and Michael Omartian for the album We Are the World. With sales in excess of 20 million copies, it is one of the fewer than 30 all-time singles to have sold at least 10 million copies worldwide.
Befitting this festival of nations, Holman UMC, as a festival of nations, will celebrate this year with a worship series themed "We are Pentecost: We Are The World!" Throughout the series, we will celebrate God's gift of equality through diversity. This sermon series and worship experiences will invite us to embrace how the Holy Spirit unites us and "births" us to speak new languages and build new relationships as we become the renewed body of Christ! May the beauty of this game, and the power of this season, propel us into celebrating the beauty within our diversity.
Throughout the series, our preaching, music and arts will align with the theme as we celebrate the regions of the world represented in World Cup, and at Holman. Languages will be spoken from the regions, and we invite members to adorn the altar with artifacts from the region and wear clothing from the region.
To kick it all off, we invite you to join us on Thursday, June 12 @ 12 noon in the Library for refreshments, and to watch the opening ceremonies and first match between Brazil and Croatia. Kick-off is at 1 pm.
Jazz for the Soul will continue the worship series with special music and Pastor Victor preaching.
WORSHIP SCHEDULE:
June 15th (Father's Day) – Pastor Victor, preaching (Region: South America)
June 22nd – Pastor Sauls, preaching (Region: Africa)
June 26th (Jazz for the Soul) – Pastor Sauls, preaching
June 29th – (Unity Sunday & Women's Day), Rev. Najumah Smith-Pollard, preaching (Region: Central America)
STAY TUNED for more info on JULY!!