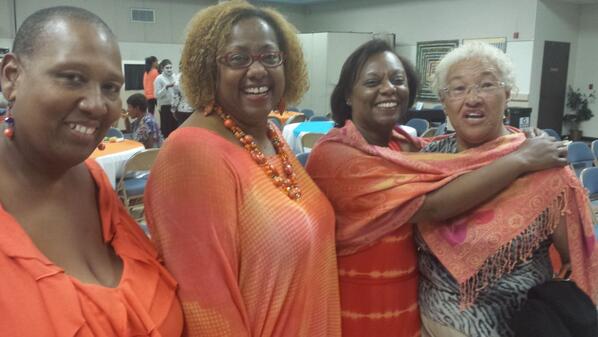 As Rev. Judi Wortham-Sauls, first lady of Holman United Methodist Church, addressed women's empowerment weekend, she recalled the words she saw recently on a plaque. "Life is not about waiting for the storms to pass. It's about dancing in the rain. "
Preaching to women, of all ages, gathered Friday evening in L. L. White Hall, she also shared a memory of a very sick young mother praying: God, I want to see my daughter go to prom, and graduate from college. I want to be that mother-of-the bride, and grandmother of her children. But Lord, if it is my time, thank you for the compliment. I am dancing in the rain.
Zaneta, Ebony with mom, Rev. Lisa, after mime dancing to "Encourage Yourself" at Women's Weekend @HolmanUMC pic.twitter.com/u9Ue0o4Hhl

— Kelvin Sauls (@jabulani1125) June 28, 2014
Compliment?
"So many times when trials come our way, we stop trusting God," Rev. Judi said. "If God didn't know how resilient we are, what prayer warriors we are, God could not trust us with trouble." Trials, she explained are actually God's compliments. "Even in the midst of the storms of life, God is calling us to choose joy."
Her sermon, the prayers, the songs, the praise, the workshops and the Sunday worship centered on a scripture from the Book of James. "Consider it pure joy, my brothers and sisters, whenever you face trials of many kinds, because you know that the testing of faith develops perseverance. Let perseverance finish its work so you may be mature and complete, not lacking in anything."
That message took many forms.
A poetic "Litany for Women—Count it All Joy" launched a call and response of faith and praise, written by Faredeh Hutchinson, each day of the weekend. Melida Smith-Byrd, director of the women's ministry praise team, introduced a song she had just finished Friday afternoon. "My weapon is my praise," she sang. Also on Friday, a mime dramatized the popular song, Sometimes You Have to Encourage Yourself." That dancer Zaneta Smith would later serve another purpose.
On Saturday, more than 100 women participated including Holman members, friends, relatives and ladies from a local shelter. The morning began with a gentle yoga class taught in chairs, and not on mats, down on the floor. The leader Martha Watson ended the stretches with a prayer also tied to the theme.
When the workshops began, two targeted the youngest groups, ages 12-17 and ages 18-24. "Mirror, Mirror" focused on self -esteem. Another session especially appropriate during this era of Facebook and twitter, "#(as in hash-tag) Virtues " explored the dos and don'ts of social media. The facilitators included Zaneta Smith, no longer in her mime makeup, along with Rachel Hill, Alisha Elliott and Pat Barnett.
"Diva Women Dancing in the Rain," was reserved for women, 25 and over, and led by another long-time Holman member, Dr. Gail Wyatt. She began with how to manage your life in spite of all the burdens, barriers, struggles and tremendous losses like the death of her daughter in January.
Touching on gender and ethnicity, families, both supportive and dysfunctional; relationships throughout life from babies who can't managed on their own through harmful expectations such as children should be seen and not heard as well as adulthood –including the lack of a partner. Throughout her presentation she emphasized taking care of physical and mental health. 
Vicki Allen sings "Take Me to the King" @HolmanUMC during Praise & Worship Celebration kicking off Women's Wknd pic.twitter.com/kX0H5ey3tS

— Kelvin Sauls (@jabulani1125) June 28, 2014
"Be an expert on you," she advised. "Stop being somebody that somebody else wants you to be."
Advocating getting as much education as possible, and a career instead of a job, she said, "If there's anything that will help you dance in the rain, it is if you have some money." And, stop letting family members take all of your money, especially your pension. "Not all family members are positive," she explained. Find the right people to help them.
Take care of yourself. "Every day, when you get up, ask what do I need to smile? If you can't even smile because God woke you up for another day, you need to work on what burdens you," she said. That includes managing stress, she added inviting participants to call out causes: bankruptcy, losing a home, unemployment, loneliness, chronic illnesses and anything else "that takes away your joy."
She also mentioned the trauma of racism –including micro-aggressions such as when a co-worker can't tell two black women apart although one is much taller, and much browner. Or when you're a guest, and someone assumes you are the help.
A participant brought up another stressor.
"Black women are hard on each other—who has the longest hair, looking you up and down to see what you are wearing, telling you that red doesn't match," Rachel Chelsea said. "And, if someone's made something of themselves, saying, she think's she this. She thinks she's that. You don't know that woman or what she's going through. Why not give her a compliment? I'm going to tell you, you look nice."
Commenting on that self-hatred, Dr. Wyatt spoke about "bringing someone down to make yourself feel better." But, that wasn't her main point.
"You have to learn to dance by yourself," she said. "So you can dance, even if nobody asks you to dance."
"In pursuit of the joy of physical fitness," trainer Eric Tucker provided a blueprint to a better lifestyle. "Learn to say no," he said, to unhealthy food, large portions, breaking a commitment to exercise, living at a break-neck pace and skimping on sleep.
Ashley & Danielle hangin out at Womens Wknd @HolmanUMC Join us 2day 4 Yoga, empowerment workshops & healthy lunch! pic.twitter.com/M9Lmrwjcjz

— Kelvin Sauls (@jabulani1125) June 28, 2014
After a healthy lunch of spaghetti made with low-fat ground turkey, chicken sausage and vegetables, salad, and small pieces of bread, the afternoon workshops began. For the older participants, Rev. Neema Cyrus-Franklin facilitated a very interactive "Diva Women in Pursuit of Joy."
She asked, "What does joy look like?" The birth of a baby, a smile, gratitude, sharing and forgiveness, participants offered.
"It takes a strong person to keep the joy," Rev. Neema Cyrus-Franklin said, especially when faced with deep emotional and spiritual pain. She asked for examples. The answers included betrayal, rape, violence inflicted on the innocent, abuse, abandonment, discrimination and when someone lies on you.
"We must respond to our trials with a sense of hope," she said. Discussing the scripture from the Book of James, the linchpin of the weekend, she asked participants to talk about the meaning.
At one table, the elders spoke first.
"If we didn't have trials, how would we be able to appreciate all the good things?" asked Mattiel Kirby, a member of Holman for 55 years.
Sibyl Howard-Cade, also a member for more than 50 years said, "When I go through trials, I say right then, something good must be coming. Satan, get behind me. You are not going to steal my joy." She attended the weekend with her daughter-in-law, Shari-Lyn Gordon-Jackson.
They turned their attention back to the minister, who invited the participants to "body prayer…pray while doing" at four meditative stations she had set up.
Sibyl Howard-Cade headed for the labyrinth prayer station. She put on surgical booties, and reflected on her spiritual journey as instructed. Carefully, she traced the twisting lines. "I chose this because I felt I needed to bring something to the center," she said, "and leave it there."
Mattiel Kirby chose the water of life station. "Water is always cleansing," she said. She sat at the table, and as instructed, prayed, became quiet, breathed deeply, read verses from the Book of Isaiah. She chose a stone and wrote a prayer on it. She dropped it into the water, and continued praying.
Georgiana Bangura, also a member of Holman, visited the ReCreate-Tion Station, also known as the play station. "You cannot be like an adult all of the time," she said. "I have to be like a kid sometimes to relax." She stood at a table filled with colors, paints, play dough and beads. After praying and reflecting, as instructed, she created a bracelet, a prayer chain, and a reminder to say her special prayer in times of need.
She also stopped by the love your neighbor station, a table filed with newspapers. She prayed and chose a story that concerned her. She posted a short prayer near a headline about a firefighter, who had died recently, after chasing his dog during a hike. She reflected on how she could help others, and read the Bible scriptures posted on the wall.
After ending with a circle of prayer, on Saturday, participants walked by bushel baskets filled with lotions and socks for a ministry that rescues women and children from human trafficking in Los Angeles. On Sunday, the participants worshiped at the 11 a.m. service. Some wore shades of orange such as peach, cantaloupe and carrot indicating they were part of the planning committee for the intergenerational conference. During the opening prayer, Rev. Judi Wortham-Sauls lifted up the purpose and mission of the weekend, in pursuit of joy.
Rev. Judi & Dr. JuJu at culmination worship celebration of Womens Wknd @HolmanUMC Sermon: "Maintian Possession!!" pic.twitter.com/Xn95fyUrSj — Kelvin Sauls (@jabulani1125) June 30, 2014
The women's ministry choir lifted up the purpose of the weekend in song and praise.
The Rev. Dr. Najuma Smith-Pollard referred again to the passage from James that guided the prayers, workshops and other activities. Linking her message to the World Cup, the on-going soccer championship, she described a game-winning strategy that also applies to life.
"Maintain possession," she said, explaining how soccer players strive to control the ball, an offensive and defensive tactic.
"Maintain possession," of your faith, she urged. As for the trials and tribulations of life, she compared them to practice drills.
"God, like any good coach, will make us run some drills. We are tested and tried. Things come up in our life," she preached. "The Lord has been sending these drills in your life to see how you maintain your faith and hope…. to see how you maintain possession."
As the service concluded, Rev. Kelvin Sauls, senior pastor, paid tribute to the women's weekend. "Let your joy rise," he said, "through service."