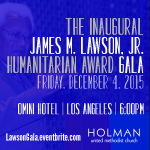 On Sunday, we were blessed by our Pastor Emeritus, Rev. James M. Lawson, Jr. as he kicked off our National Week of Non-Violence with a sermon titled, "Following the Non-Violent Jesus."  As part of our 70th Anniversary Celebrations, we're honoring this legacy with the Inaugural James M. Lawson Jr. Humanitarian Award, honoring Marian Wright Edelman, founder of the Children's Defense Fund and recipient of the Presidential Medal of Freedom.
Go to holmanumc.com/lawson to find out how to be a sponsor or purchase a ticket for this historic occasion!
###
REFLECTION FROM REV. LAWSON ON MARIAN WRIGHT EDELMAN
In November of 2014, as the Holman 70th Anniversary Committee gathered, it was decided to plan a major event around a James M. Lawson, Jr. Humanitarian Award given to a deserving person.  It was also decided that Marian Wright Edelman, Founder and President of the Children's Defense Fund, would be the first recipient.
Marian Wright Edelman must be regarded as a United States of America heroic figure, similar to an Abigail Adams, a Frederick Douglass, an Eleanor Roosevelt, a Mary McLeod Bethune, or an Ida B. Wells.
In 1960, Mrs. Edelman was a student at Spelman College and one of the student spokespersons for the Atlanta Sit-in Campaign.  In the 1960s, she became the first African-American woman to pass the Mississippi (closed society) Bar examination and opened the first Civil Rights Law office in Jackson, Mississippi.  That office was the first Thurgood Marshall NAACP Legal Defense Fund office in that heavily armed Jim Crow/Segregation State and even then the poorest state in the United States of America.
Mrs. Edelman is the recipient of the MacArthur Foundation Genius Award.
In 1973, the Children's Defense Fund insisted that the single most priority in the United States should be providing every baby a healthy start, a head start, a fair start, a safe start, and a moral start.
Listen to Isaiah 65:23 — They shall not labor in vain or bear children for calamity. . . .
December 4 is a work for God's "New Earth."
The 70th Anniversary Committee