But this is a people robbed and plundered,
all of them are trapped in holes and hidden in prisons;
they have become a prey with no one to rescue, a spoil with no one to say,
"Restore!"  Who among you will give heed to this,
who will attend and listen for the time to come?
—Isaiah 42:22-23 (NRSV)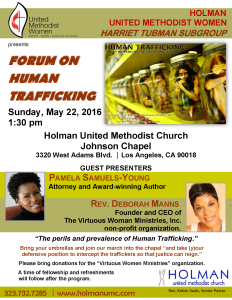 Susie Johnson, of the United Methodist Women-Washington Office of Public Policy states, "Human trafficking is a crime.  United Methodist Women from across the nation have joined this sacred mission by taking a stand to prevent, protect and prosecute those impacted by this trade in human beings that occurs everywhere in the world.  Through education, partnership and action, United Methodist Women are working with faith representatives, elected officials and other community groups to build awareness and ignite flames of hope for those who are trafficked."  Human Trafficking is one of the eight justice focus issues of the organization of United Methodist Women.
On Sunday, May 22, 2016, the Harriet Tubman Subgroup of Holman United Methodist Women invites you to their Monthly Unit Meeting Program to listen, learn and participate in a discussion on "Human Trafficking."  The speakers are well known attorney and award-winning author Pamela Samuels-Young and Rev. Deborah Manns, founder and CEO of The Virtuous Woman Ministries, Inc. non-profit organization.  They will speak on the perils and prevalence of Human Trafficking in city, communities and often close enough to be in our homes.  The will describe and explain how our young people get caught up as victims in the wide web of Trafficking and the corrupt individuals who operate the system.  It is illegal servitude known as slavery.  It must be stopped.  The only way we can do this is to become more educated to its existence and the damage to the lives it touches.
The 2008 Book of Discipline of The United Methodist Church ¶161 states that United Methodists "deplore all forms of the commercialization and exploitation of sex, with their consequent cheapening and degradation of human personality.  To lose freedom and be sold by someone else for sexual purposes is a form of slavery, and we denounce such business and support the abused and their right to freedom. We call for strict global enforcement of laws prohibiting the sexual exploitation or use of children by adults and encourage efforts to hold perpetrators legally and financially responsible. (p. 104)
The 2008 Book of Resolutions of The United Methodist Church Resolution 6023, titled "Abolition of Sex Trafficking," declares, "Therefore, The United Methodist Church, through education, financial resources, publication, lobbying, and the use of every relevant gift of God, shall join in the active battle against the modern-day enslavement of humans for commercial sexual exploitation."
In 2016 the United Methodist Women launched the "umbrella" defense.  "Under an Umbrella, we are shielded the storm and protected from the heat.  §Our Umbrella Defense will shield trafficked women and girls from the glare of insensitive bystanders; §Our Umbrella Defense will show that we care and encourage survivors to hold on a little longer; §Our Umbrella Defense will form colorful ribbons of hope—hope for more beds, more money and more prosecutions; §Our Umbrella Defense will be a sign of Recovering Grace.  So, Open Your Umbrellas!
Let's name human trafficking as the crime that it is. Let us commit ourselves to ACTS of prevention and protection so that those who are victimized can move from trauma to thriving. Behind your umbrella chart a strategy to pass laws that prosecute the traffickers, not the victimized.  Let our umbrella line of defense bear witness to the strength of survivors and to our partnership in their journey to wholeness.  Open your umbrella and take your defensive position to intercept the traffickers so that justice can reign."
Bring your umbrellas and items to donate to the Virtuous Women Ministries organization.  We will march into the Chapel carrying our umbrellas and have a wonderful forum.  There will be a Repast following the program.
(Source: http://www.unitedmethodistwomen.org/what-we-do/service-and-advocacy/mission-focus-issues/human-trafficking/fact-sheet)