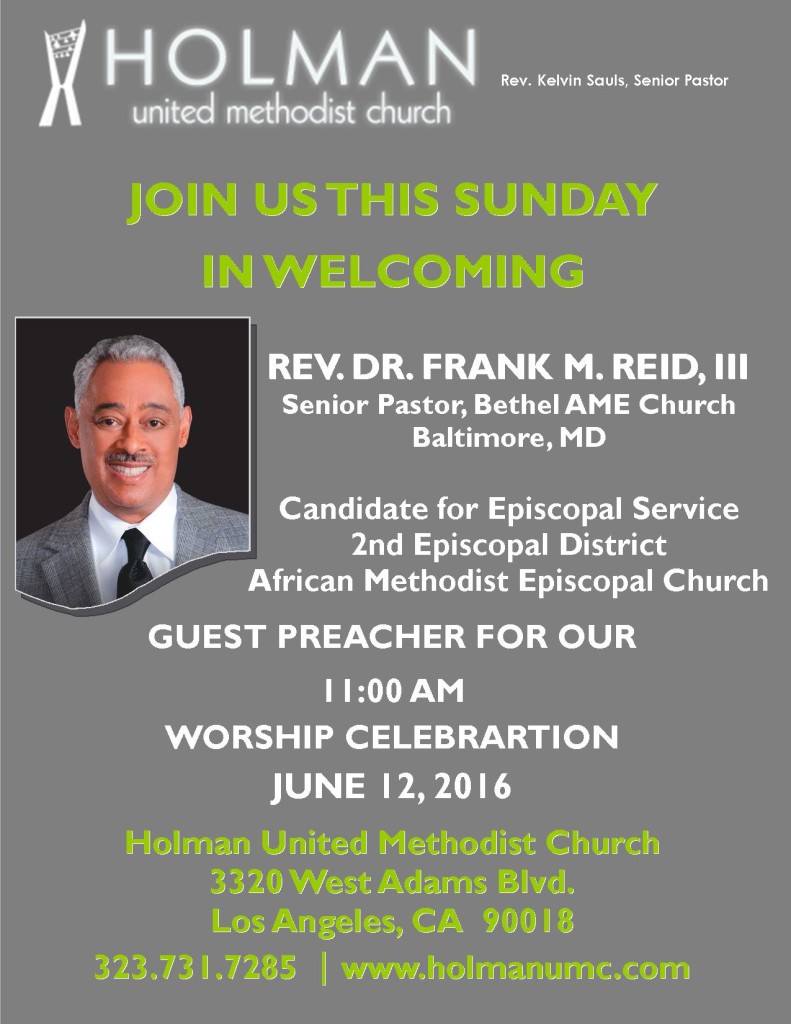 THE REV. DR. FRANK MADISON REID, III is an internationally-known leader, a preeminent power speaker, a cutting-edge thinker, as well as a motivator who encourages and equips people to rebuild their broken lives and communities. Born on June 29, 1951, in Chicago, Illinois, to the late Bishop Frank M. Reid, Jr., and Adrenis Carter Reid, he was the first born son of four children. Three daughters were born to this union, Vee (deceased), Vanessa, and Stephanie. The family moved to St. Louis, Missouri, in 1956 where Dr. Reid was raised and attended public schools. He graduated from high school in 1969.
A brilliant but late blooming student, Dr. Reid took a year, 1969-70, to attend the acclaimed Yale Transitional Year Program (TYP). In that program, he began to fulfill his academic and leadership potential and was later admitted to some of the top colleges in the nation. Dr. Reid graduated from Yale in 1974 with a B.A. in History and African American Studies. While at Yale, he served as the moderator and president of the Black Student Alliance (BSA) and had the opportunity to meet some of the top leaders of the world. During his college years, Dr. Reid answered his call to ministry and preached his trial sermon in August of 1971 at Metropolitan A.M.E. Church in Washington, D.C. When he received his license to preach, he became the 5th generation of his family to become a minister in the African Methodist Episcopal Church. I
n September 1974, Dr. Reid began his studies at the Harvard Divinity School in Cambridge, Massachusetts. In 1975, Dr. Reid took a sabbatical to travel to Monrovia, Liberia in West Africa where he taught at Monrovia College and was Co-Pastor of the Historic Eliza Turner A.M.E. Church. He returned to Harvard in the fall of 1976 where he received his Master's of Divinity Degree in 1978. Since 1978, Dr. Reid has served congregations in Charlotte, North Carolina, Greater Bethel A.M.E. (1978-80); in Los Angeles, California, Ward A.M.E. Church (1980-88); and currently in Baltimore, Maryland, the historic Bethel A.M.E. Church. In the midst of a successful ministry, Dr. Reid became a part of the first class of Samuel DeWitt Proctor Doctoral Fellows at United Theological Seminary in Dayton, Ohio. He graduated with a Doctor of Ministry Degree in 1990. 
Dr. Reid is a servant leader whose ministry of over 30 years has been on the cutting edge of positive change. As an intellectual leader, he has consistently brought the top authors and thinkers into the communities that he has served: Taylor Branch, Cornel West, Michael Eric Dyson, Sonia Sanchez, Haki Madhubuti, Terri McMillan, BeBe Moore Campbell are just a few of the authors who have spoken at the churches he has pastored. As a community leader, Dr. Reid has had Bishop Desmond Tutu, Dr. Marian Wright Edelman, Dick Gregory, Johnetta Cole,Senator Barbara Mikulski, Congressman Elijah Cummings, Gov. Robert Ehrlich, Mayor Martin O'Malley, Rev. Jesse Jackson, Rev. Al Sharpton, Minister Louis Farrakhan, and Imam Wallace Dean Muhummad to speak at or visit the churches he has pastored. Also, the mayor and two deputy mayors of Baltimore City, the Comptroller of Baltimore City, and a Maryland State Delegate are members of Bethel A.M.E. Church.
As a Christian pastor, some of the greatest preachers and teachers in the world have taught at churches that Dr. Reid has pastored: Bishop T.D. Jakes, Bishop Sun Do Kim, Bishop Vashti Murphy McKenzie, Bishop Vinton R. Anderson, Bishop Noel Jones, Pastor Paula White, Bishop Paul S. Morton, Bishop Eddie Long, Co-Pastor Deborah Morton, Dr. William Watley, and Dr. Leonard Sweet, to name a few. Under Dr. Reid's leadership, "The Bethel Outreach of Love" Broadcast was the first African Methodist Episcopal Church to have an international TV broadcast. For over 10 years, the broadcast was on Black Entertainment Television (BET). The broadcast has also been on the Armed Forces Network, and is now seen internationally in Europe on Revelation TV and UC-TV, nationally on The Word Network, and regionally on WB-TV. As a best-selling author who has written important books and articles, Dr. Reid is a much sought out author, teacher, preacher, and motivational speaker. Dr. Reid is married to Marlaa Hall Reid, a talented woman in her own right; they have been married for over 33 years. They have two daughters, FranShon and Faith, and one son, Shane.
Source:  http://bethel1.org/?page_id=42