Women Rising!
Achievement of Racial Justice and Economic Equity
By Gayle Pollard-Terry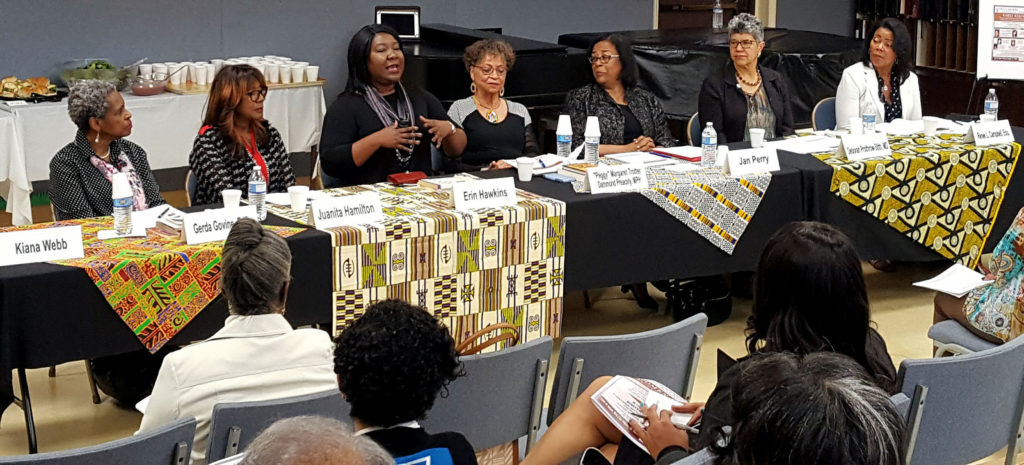 In celebration of Women's History Month, The Women's Ministry at Holman UMC, hosted apowerful panel discussion, on a recent Saturday, in the Bowick Music Room. The theme: "Organizing Power for the Achievement of Racial Justice and Economic Equity." Explaining the purpose of the event, Rev. Kelvin Sauls, senior pastor of the church, said, "When we talk about racial justice and economic equity, we are used to hearing from men in so many spaces. We need to hear and learn from women."
Poet Peggy Dammond Preacely–a veteran of the civil rights movement and one of the Freedom Riders who rode public buses in the segregated South despite brutality, violence and jail—set the tone with an original piece.
Atta'ya Brown introduced the two keynote speakers. Erin Hawkins is General Secretary, General Commission on Religion and Race of the United Methodist Church. Dr. Deborah Prothrow-Stith is Dean of the College of Medicine at Charles R. Drew University. They addressed black woman who ranged in age from their 20s to their 80s.
Ms. Hawkins began. Referring to the mounting challenges since the election of President Trump, she asked, "How do we as women and conscious people continue to move forward with all of this fear-mongering?" Faith, she said, before quoting Valerie Kaur's prayer written the day after the election. "'What if this darkness is not the darkness of the tomb, but the darkness of the womb?'" She added, "We are on the precipice" of the birth of a new America. She cited the story of Joseph and his sinful brothers in the Book of Genesis. "What you meant for evil, God meant for good."
Speaking personally, Dr. Prothrow-Stith shared the benefits of attending Spelman College, the encouragement, her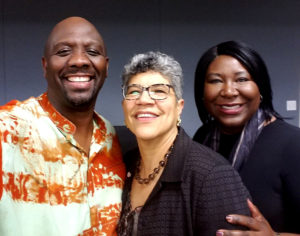 growing confidence, developing unyielding perseverance as in "I have to try harder, not I can't do it," and the ability to self-critique absent the burdens of race or gender often found at a predominantly white university. She touted the valuable, diverse points of view black women add to conversations once limited to white males, such as physicians who believed years ago that morning sickness, menstrual cramps and hot flashes were psychological. Returning to the importance of persistence, she said. "Tell your children, they don't have to be perfect to be successful.  They just have to get up again. Get up again. Get up again!"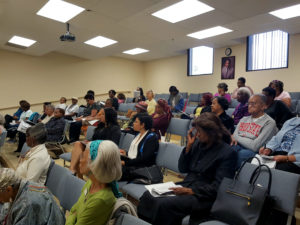 As the program shifted to the panel, Diane Henry introduced the moderator, former Los Angeles City Councilmember Jan Perry. She challenged the panel members.
Kiana Webb, an entrepreneur whose family owns 16 McDonald's franchises, stressed "providing jobs for our youth" as well as a goal of "creating multi-generational wealth."
Renḗe L. Campbell, Esq. said, "As African-American women, we need access to justice." She added, "Some men don't understand women's voices need to be heard."
Dr. Gerda Govine, who served on the L.A. County Commission of Women said, "90 is the new 70," to laughter. She urged taking care of our elders, and ourselves.
Juanita Hamilton, a realtor also heads her own group, which is overseeing business development for artificial intelligence and robotics. She advised building wealth through real estate, protecting property with a living trust, and relying on someone "who has your best interest" when selling a home.
The poet Peggy Dammond Preacely, also a panelist, was asked to sum up.
"As I listened to my sisters on the panel, I realized we can't be no ways tired," she said referring to the song made popular by James Cleveland. She added, "We still have a lot of work to do.  Because we are standing on the bold and broad shoulders of so many sheroes, we can't give up."