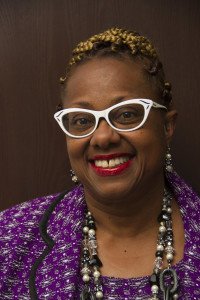 Growing up, long before Reverend preceded her name and she became the first lady of Holman United Methodist Church, Judi Wortham-Sauls travelled all of the time. Along freeways, up highways, down back roads, and never mind the planes, because her father served in the military. Duty called.
One day, she saw what looked like butterflies fluttering on clotheslines. Colors caught her young eyes. The oranges of sunsets, the reds of roses, the lavenders of lilacs, the yellows of lemons and many other shades danced in the summer breeze.
Mesmerized, she asked, "Daddy, what's that?"
"Quilts," he explained, igniting what has become a life-long passion.
Her "Sistah, I Need You to Survive" quilt was inspired by a difficult year that included a long-distance marriage, a grueling career and the start of her women's ministry. Her point, "I could not have done it without the Lord and my Sisters."
She teaches quilting. Sharing her wisdom and expertise Rev. Wortham-Sauls has mastered another form.
"One of my greatest purposes is to help women piece their lives together so they are like a whole quilt, with complete wellness and complete healing," she explains. "They are complete women nutritionally, physically, emotionally, financially and spiritually."
Her commitment to women's ministry informs her life. She teaches monthly Bible study at Holman that is open to all women.   She continues to teach monthly Bible Study in Oakland, where for years her husband, Rev. Kelvin Sauls pastored at Downs United Method Church and she served as associate pastor at Bethel AME Church in San Francisco.
How did this God-loving woman get to this point in her life?
Her father, a Marine Corps gunnery sergeant and her mother, a homemaker wanted a little girl. To the union of Leroy and Gloria Wortham were born 5 brothers and the queen, Judalon.  Born in Miami, Florida, she grew up with her five brothers as they traveled across the United States to "home" wherever her father was stationed.
Her spiritual journey began in Oakland, California, when she walked down the aisle, took the hand of Bishop Ernestine Reems (founding pastor of Center of Hope Church), and gave her heart to her Lord and Savior, Jesus Christ.
Southern California became the family's final home after her father retired.   She finished high school here, and graduated from UCLA with a degree in psychology. She climbed the ladder at AT&T.   She worshipped at Ward AME Church.
God called.
When she could no longer resist, no longer procrastinate, she answered. Uprooting her life and stepping out on faith, she moved to Dayton, Ohio to pursue her ministerial studies at United Theological Seminary.
There she met the love of her life, Rev. Kelvin Sauls, born and raised in Johannesburg, South Africa. He graduated as an ordained Elder in the United Methodist Church and she graduated as an ordained Elder in the African Methodist Episcopal Church. Together, they partner in their mission to spread the Word and to live it.
In 2012, Rev. Kelvin Sauls became senior pastor of Holman United Methodist Church, predominantly African-American and the largest congregation in the District. Because of her responsibilities as first lady, Rev. Judi Wortham-Sauls asked to be appointed by her AME Bishop to work alongside her husband.
At Holman, she leads the prayer and praise ministries. She leads the annual women's retreat – and a couple of ladies-only pajama parties in the fellowship hall. She preaches at every opportunity, including at Holman, at women's conferences and at Women's Day in congregations around the country. She teaches quilting, her metaphor for helping women create beauty from whatever is available. Passionately, she ministers to women including some much older than she is, and some as young as girl scouts.
Her personal motto is, "Lord, I'm available to you."