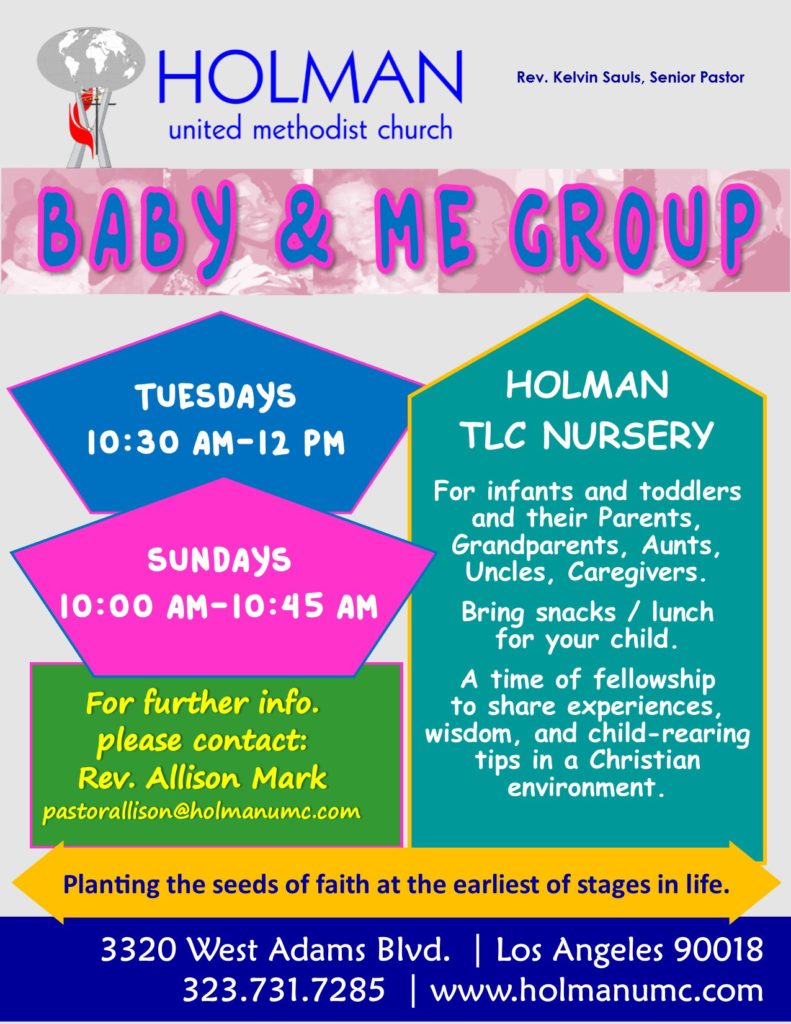 Holman BABY and ME Fall Season Program
For Infants and Toddlers and their Parents, Grandparents, Aunts, Uncles, Caregivers…
Tuesdays from 10:30 am-12 pm—————Sundays from 10-10:45 am
Meets in the Holman UMC Nursery
Bring snacks / lunch for your child
Our Holman Baby and Me program incorporates a faith-based family fellowship group sharing ideas, questions, and topics related to raising our children as faithful followers of Christ.  Our Tuesday gathering is an hour and a half of singing, play, snacks, crafts/activities, prayer, and baby sign-language.  HBAM will also invite monthly guest speakers to help further our child-rearing skills in a Christian environment.
Sundays are an informal opportunity for families to gather before the 11 am service and be in fellowship and check-in (Holy accountability) with one another—giving Ms. Beverly a little break too!
Currently we have SIX Holman babies and their caregivers and our group continues to grow! We are looking into CPR and First Aid certifying ALL the families in the group.  HBAM has decided as part of our mission, to create a Baby Supply Closet for families in need of baby clothes and gear.  There has also been a request for BABY DIAPERS (or funds) for families who are struggling to rebuild their lives in Houston after the devastating effects of Hurricane Harvey.  Our Youth and Families are looking into collecting Baby Diapers and making kits for UMCOR.
Notes to ALL parents of Infants, Toddlers and Preschoolers:  Our Holman TLC Nursery is staffed by Ms. Beverly Thomas from 7:15 am until the end of the 11am Worship Service.  It is open to children from Infant to 4 years old.
Kaira and Amara Mark-Schwiebert also wanted to share their gift to the Holman Baby and Me group,
a donation of Baby Changing Tables in both Men and Women restrooms on the 1st floor of the
Rev. James M. Lawson Building.
Here is a glimpse at our Fall calendar:
n  September Tuesdays: 5, 12, 19, 26
n  October Tuesdays: 3, 10, 17, 24, 31
n  November Tuesdays: 7, 14, 28
n  December 5, 12, 19
n  Every Sunday
Future Family Outings & Events:
California Science Museum (September), Holman Trunk-or-Treat Halloween Party (October 28),
Los Angeles Zoo (October) Natural History Museum (November), Queen Mary Winter Fun (December), Christmas Parade at Downtown Disney (December 9, Noon), Date Night (with Youth Babysitters!)
…and more!
Please contact Rev. Allison Mark for more information or for the HBAM schedule pastorallison@holmanumc.com