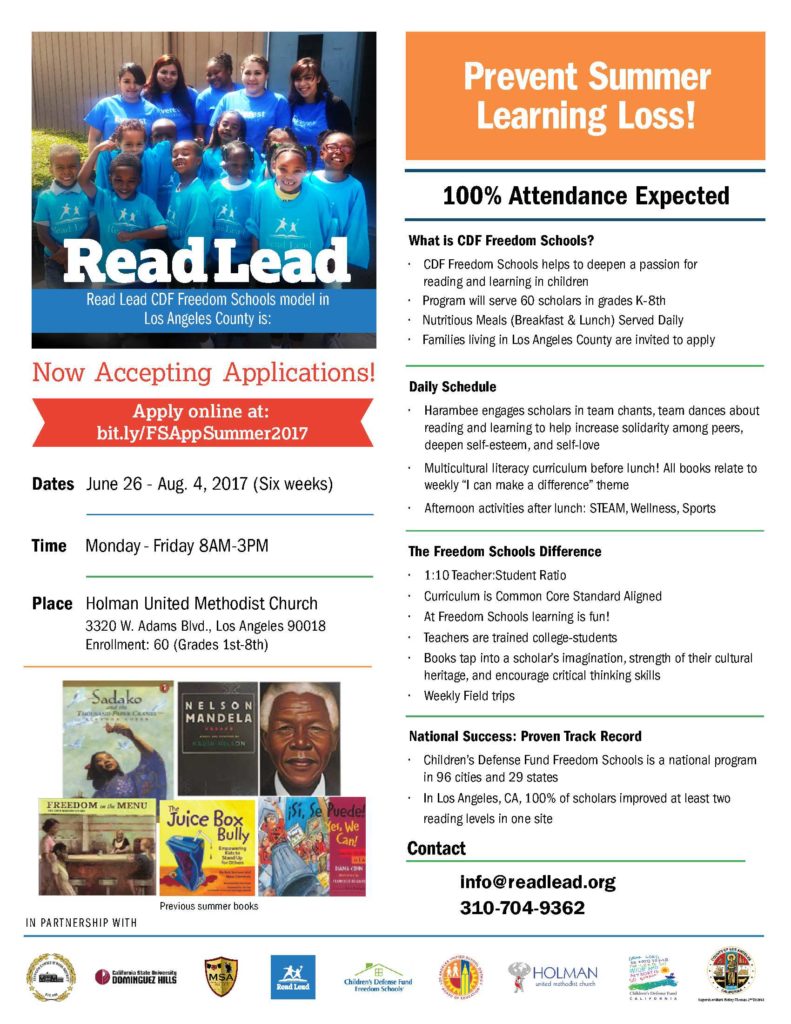 Holman CDF Freedom Schools Program Overview
The Children's Defense Fund Freedom Schools® program provides summer and after school enrichment that helps children fall in love with reading, increases self-esteem, and generates positive attitudes toward learning. Children are taught using a model curriculum that supports children and families around five essential components: high quality academic enrichment, parent and family involvement, civic engagement and social action, intergenerational leadership development, and health.
Building on the successful programs in 2012 and 2013, by Read Lead (www.readlead.org), Holman will become a third site,
managed by Read Lead, to provide this enriching educational opportunity to 60 scholars between the ages of 5-13 during the summer of 2015. With a 10:1 student to teacher ratio, these young scholars will experience a program that will ensure they are equipped with the necessary skills to be able to be successful in life. During the program, trained servant leaders will also provide opportunities and instruction in leadership development, science and technology, the arts and sports.
This exciting experience will build our scholars' self-esteem, increases their love of reading and introduces them to various activities not provided by the traditional school system. In six weeks of learning, scholars will read over 80 books that are developmentally appropriate, reflect children's own images, relate their authentic history, culture, and heritage through the eyes of children, introduce children to adults and children who make a difference in the lives of others, offer encouragement to become involved in community service, help children explore fundamental issues related to self-esteem and expand their capacity to dream and to believe they can make their dreams reality.
Program Dates:
June 26, 2017 – August 4, 2017 (6 weeks)
Program Goals
To instill in children, youth, and young adults intrinsic values of reading, high achievement, community service, and social action to create well rounded globally minded citizens.
To increase parent and family involvement by engaging parents as volunteers but also as adult learners and advocates through parent meetings and trainings that run parallel to the student program.
To develop intergenerational leaders in global and civic leadership, social justice, and social entrepreneurship.
To connect the complex needs of children and families to the rich resources of the local community by introducing them to the local library, neighborhood cultural centers, and science and technology museums.
To build healthy lifestyles in our children to foster a healthy body and mind. We do this through providing nutritious meals twice each day of the program and by leading fun physical activities.
Partners for Freedom
We thank our partners for their financial commitment to making this program possible. Our growing list of "Partners for Freedom" include, among others:
Supervisor Mark Ridley-Thomas
The Holman Permanent Endowment
Senator Holly Mitchell
The Aids Healthcare Foundation
Anonymous Partners
Volunteers for Freedom
We thank our dedicated volunteers who will serve and care for the scholars participating in the program. Your time and gifts are invaluable.
We look forward to bringing high quality summer educational opportunities to our community. We deeply appreciate the growing list of "Partners for Freedom" and volunteers for their commitment. Blessings beyond!
Further Information About Freedom Schools
  50 Years On, Freedom Schools Still Teaching Most Vulnerable
Gewn Ifill's PBS NewsHour segment: 50 Years On, Freedom Schools Still Teaching Most Vulnerable, aired Friday, August 8th. She highlights the importance of the CDF Freedom Schools® Program, which builds on the Freedom Schools of the Civil Rights Movement 50 years ago during Freedom Summer.
The CDF Freedom Schools program boosts student capacity and motivation to read, connects the needs of children and families to resources within their communities, and helps to close racial and economic achievement gaps. The six-week summer and after-school programs include five basic components: an integrated literacy curriculum, parent involvement, child service and civic engagement, intergenerational leadership development, and nutrition.
The CDF Freedom Schools model incorporates the totality of the Children's Defense Fund's mission by supporting children to excel and believe in their ability to make a difference in themselves and their families, schools, communities, nation, and world. "Once you know how to read it's very hard to make you a slave," says Marian Wright Edelman.
Since the program began in 1995, more than 125,000 children have had the CDF Freedom Schools experience and more than 15,000 college students, site coordinators, and project directors have been trained to deliver this empowering model.
CDF Freedom Schools program sites work hard to ensure each child is equipped with the necessary skills to succeed in life. This summer 12,745 children in 107 cities and 29 states were able to benefit from the program. Your support today will help level the playing field for every child!
For more information on how you can get involved please contact:
Allison Merfeld
Manager for Program Operations
202-662-3589
amerfeld@childrensdefense.org
Watch and share the PBS NewsHour segment 50 Years On, Freedom Schools Still Teaching Most Vulnerable!
With Urgency and Determination,
-Children's Defense Fund