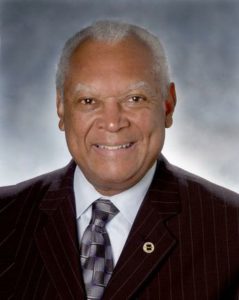 John W. Mack currently serves as a Commissioner on the City of Los Angeles Planning Commission. Mayor Eric Garcetti appointed him to the Planning Commission in September of 2013.
From 2005 to 2013, Mack served as a Los Angeles Police Commissioner. He was appointed to the Board of Police Commissioners by Mayor Antonio R. Villaraigosa in August of 2005. He held the position of President of the Police Commission for two consecutive years, and then the position of Vice President for two years. In 2009, he was re-elected to the President post and served for two years. In 2011, he was once again elected to the Vice President post.
Mack held the position of President of the Los Angeles Urban League from August of 1969, until his retirement in 2005. He began his career with the Urban League in Flint, Michigan in 1964 and was appointed Executive Director in 1965. Prior to heading the Los Angeles Urban League, he served on the Urban League's National staff for six months during the Whitney Young era in Washington, D.C. Mack was a leader in the 1960 student civil rights movement in Atlanta – and Co-Founder and Vice Chairperson of the Committee on the Appeal for Human Rights. He earned his Bachelor of Science Degree in Applied Sociology from North Carolina A&T State University. He holds a Master's Degree from Clark Atlanta University. In 2006, Commissioner Mack was awarded an Honorary Doctor of Management Degree from the Claremont Graduate University School of Education; and in 2011, he was conferred an Honorary Doctor of Humane Letters Degree by the California State University Board of Trustees at California State University, Los Angeles.
During his tenure, the Los Angeles Urban League became one of the most successful non-profit community organizations in Los Angeles with an annual budget of $25 million. The Los Angeles Urban League served over 100,000 individuals each year and operates a number of innovative, result-oriented job training, job placement, education, academic tutorial, youth achievement and business development programs serving African-Americans and other people of color utilizing state of the art computer technology preparing League constituents for the 21st Century. In 1997, United Way presented its Agency of the Year Award to the Los Angeles Urban League.
Mack is a highly respected advocate for equal opportunities in education, law enforcement and economic empowerment for African-Americans and other minorities – and a bridge builder across all racial, cultural, economic, gender and religious lines. The rare combination of his extraordinary experience and expertise in both civil rights and law enforcement garnered him the coveted Flame Award from the National Association of Civilian Oversight of Law Enforcement in 2014. Mack fought tirelessly for decades to fundamentally change the culture of the LAPD–through litigation, advocacy, community and political pressure, and civilian oversight. As a member and two-term President of the LAPD Board of Police Commissioners from 2005 through 2014 he played a major role in helping the LAPD develop and implement significant reforms of its policies, procedures, and investigations concerning biased policing, and helped the Department achieve full compliance with the federal consent decree that had been in place since 2001.
In 2016, Mack was honored by the Los Angeles Business Journal as one of the 500 most influential leaders in Los Angeles.
ORGANIZATIONS/AFFILIATIONS
Board Member, National Urban League Board of Trustees
Board Member, United Way
Life Trustee, Cedars Sinai Medical Center
Former Board Member, The California Institute of Technology Board of Trustees
Member of Wells Fargo Bank Community Advisory Board
Board of Governors, City Club on Bunker Hill
Member of Alpha Phi Alpha Fraternity
Member of Xi Boule Sigma Psi Pi Fraternity
Board of Directors, Weingart Foundation
SPECIAL HONORS AND AWARDS
1992 Alpha Phi Alpha Fraternity's Thurgood Marshall Civil Rights Award
1993 Los Angeles Urban League's Whitney M. Young, Jr. Award recipient
1993 Jewish Federation Council Community Relations Committee's Hollzer Memorial Award
1997 NAACP Legal Defense and Educational Fund Black Women of Achievement's Special Recognition Award
2000 National Urban League "Legend of the Century" Honoree
2000 Presented Los Angeles NAACP's "Lifetime Achievement Award"
2000 Presented Clark Atlanta University Whitney M. Young, Jr. School of Social Work "Whitney M. Young, Jr. Distinguished Alumnus Award"
2001 The New Leaders "Lifetime of Giving Achievement Award"
2001 Operation Hope "Living Legend Award"
2003 American Jewish Committee's first C.I. Newman Lifetime Achievement Award
2004 Southern Christian Leadership Conference (SCLC) Martin Luther King, Jr. President's Award
2004 The Magic Johnson Foundation Humanitarian Spirit Award
2004 NCCJ Lifetime Achievement Award
2005 The City of Los Angeles honored him by celebrating "John W. Mack Day" upon his retirement
2005 The Los Angeles Board of Education named the "John W. Mack Elementary School" in recognition of his retirement and leadership advancing a level playing field and a quality education for African Americans and other youth of color
2006 Thurgood Marshall Fund's Thurgood Marshall Award
2006 Inducted into the National Black Alumni Association Hall of Fame
2006 Honorary Doctor of Management Degree from the Claremont Graduate University,
School of Education
2007 Presented the Lifetime Achievement Award by the California Afro American Museum
2011 Presented the Johnnie Cochran Jr. Public Service Award by Loyola Law School
2011 Honorary Doctor of Humane Letters Conferred by California State
University Board of Trustees at California State University, Los Angeles
2012 Presented the Community Service Award by the Edmund G. "Pat" Brown
Institute of Public Affairs
2014 National Association of Civilian Oversight of Law Enforcement Flame Award
Rev. 9/16