Aundrae Russell is the host and producer of "Spread the Word", the #1 radio show on Sundays in Los Angeles on 102.3 KJLH.  He co-created, with Stevie Wonder, this popular gospel radio show that has dominated the airwaves.
Originally, from Meridian, Mississippi, Aundrae has been in broadcasting for over 25 years.  His career includes working as a Television Sportscaster/Television News Anchor, Radio Programmer, and D.J. Currently he is the Program Director, Music Director, and On-Air Personality at the historical 102.3 KJLH.  He has been selected as Radio Program Director of the Year and most recently as Gospel DJ of the Year, for the second time.  Having served as the half time voice and Music Coordinator for the Los Angeles Lakers for nine years, Aundrae received two NBA Championship rings.  Also an accomplished writer, he has written articles for various magazines and newspapers across the country.  During his career, Aundrae has interviewed renowned celebrities such as Oscar Award winners Denzel Washington and Halle Berry, and NBA legend Michael Jordan.
Aundrae has served as host of concerts for many well-known artists, and as master of ceremony for notable gospel artists.  He can be heard on a variety of award winning cd's for several artists.  He is also featured on the "The Bible Experience" (Old Testament), an audio performance of the Bible, that boasts a a star-studded cast that includes Blair Underwood, Angela Bassett, and Samuel L. Jackson.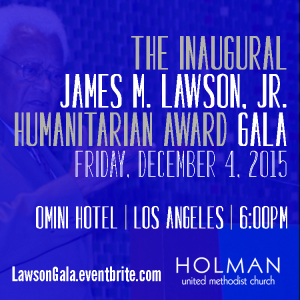 As a result of Aundrae's accomplishments and reputation within the gospel music industry, he was selected as a judge for Verizon's "How Sweet the Sound" Gospel Choir Competition (Los Angeles) along with Hezekiah Walker and Marvin Sapp.
He has also been a moderator and panelist, having participated in several radio and music conferences around the country.  He is also a guest lecturer at Loyola Marymount University and UCLA.
Devoted to making a difference in the community, Aundrae speaks at Career Day events and other special programs at schools around the Los Angeles area. He is also the CEO of Stevie Wonder's "We are You Foundation" – a non-profit organization created to assist underprivileged children and to uplift the community.
Aundrae loves the Lord and is dedicated to spreading the gospel of Jesus Christ through the music ministry of "Spread the Word, which airs every Sunday from 12pm-6pm (PST) in Los Angeles on 102.3 KJLH, and worldwide at kjlhradio.com.
We invite you to read more about Aundrae Russell on his website: www.aundraerussell.com.
—
J-Red, is an actor and a comedian with a destiny, a purpose and a plan. Known for his witty comedic stylings and impressive acting skills, J-Red is well on his way to becoming one of the world's leading entertainers.  Having performed at major venues and churches throughout the nation, born and raised in Oakland, CA is aware of his God given gift and is driven by his calling.
He is humbled and honored to have shared stages with the likes of many great singers, actors and entertainers including Kirk Franklin, Mary Mary, Rickey Smiley, Sister Cantaloupe, A. J. Jamal and D. L. Hughley.  J-Red truly believes that laughter is good for the soul.