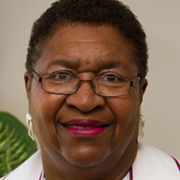 Dr. Marguerite L. Phillips, BA, MSW, ACSW, LCSW, ABD, M.Div. She earned the Doctor of Ministry from United Theological Seminary in Dayton, Ohio
Currently: Minister of Congregational  Care and Support Ministries, Holman United Methodist Church, Los Angeles, CA .  Served in clergy roles for two previous churches, one in Central Los Angeles and another in Long Beach.  Class of 2010 Claremont School of Theology.
Member of Holman since 1972.  Strong and consistent leadership across the church in the area of Christian education, family education, TLC Nursery,  children, youth and young adult ministries, social action and social justice activities.  Assumed  leadership in Parent Support Ministries .  Secretary of Administrative Board during the early '80's.  Attended all  the church council, leadership meetings and training /retreats,  in an effort to learn, grow spiritually and serve in collaboration. Served on SPPRC, numerous Christian education task groups and committees took bible study classes from senior pastor twice and other adult church school classes. Subsequently accepted  facilitator role for young adult church  school class. Served ten years as Church School Superintendent during the '90's and early 2000's.  Initiated first Disciple Bible Class plan through Holman Commission on Christian Education.   Taught Disciple I class at Holman and also at St. Mark UMC.  Called to pulpit ministry 2004/2005.
In the late 80's and mid 90's coordinated two major Christian education  trainings for Cal-Pac at Holman.  Active on the Conference Board of Christian Education and also the Cal-Pac Chapter of Christian Educator's Fellowship.  As a result have led additional workshops, served as Christian educator consultant to several local churches for the Board of Christian Education.
Recipient of Verne Cooney Christian Education  Award from the Cal-Pac Annual Conference  and two previous  awards for outstanding Christian Education leadership.
Was one of initial charter group to form the Harriet Tubman subgroup of the UMW
Honored by UMW for leadership in making a difference at Holman and by Holman's nomination given Peacemaker Award by the District UMW.
Recognized for previous leadership as faculty on various graduate schools of social work : CSUF, CSLA , USC,UCLA, CSLB. Recognized for leadership in the Developmental  Disabilities Services System in  Southern California .  Private Practice Consultant.  Community activist as parent in local schools where my children were enrolled, National Association of Social Work, NAACP, ABSW, Alpha Kappa Alpha Sorority, Inc., Who's Who in America.   Rev. Phillips has two adult children.  A daughter who lives in Los Angeles and a son and wife resides in El Paso, Texas.