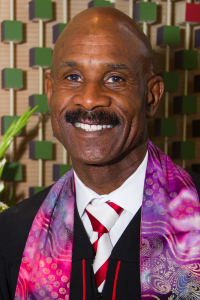 REV. OLIVER BUIE is an ordained pastor in the Christian Methodist Episcopal Church. He earned a Master of Divinity Degree in 2011 from San Francisco Theological Seminary. He has 25 years of val- uable experience in carrying out ministry responsibilities both as a licensed and ordained minister of the Gospel, including strong biblical preaching and teaching, and worship leadership. His strong points have been organizational Leadership, administration and strategic planning, evangelism and church growth strategies, community outreach & relations, program development and team building, stewardship and fund development, ecumenical and collaborative relations and event planning & management
He has served in pastoral roles in Southern California with CME Church congregations since 2003, as the spiritual leader and chief administrator of the congregation, provided leadership for the congregation to fulfill its mission and purpose as the body of Christ. In addition to serving as preacher
and teacher, he has given primary leadership in the ministries of Worship, Administration, Stewardship, and Outreach, and supported evangelism, and other ministries of the church; in addition to overseeing and equipping leadership for church sponsored Bible study and small groups.
Rev. Buie has worked with leaders in the community (Law Enforcement, Educators and Business Leaders) to improve quality of life in the greater Los Angeles area, lending that connection to increased awareness and congregational participation in the area of social justice.
His mission is to provide compassionate, visionary spiritual leadership wherever he serves. We welcome Rev. Buie to Hol- man in leadership as our Minister of Community Engagement. In this role he will collaborate with members in strategic strat- egies with ministries of compassion and justice. Welcome Rev. Buie! We look forward to your leadership and partnership.